A corporate portal for all your GIS assets
ArcGIS Enterprise includes a secure portal website where you can organize your geospatial assets and share them with others in your organization. A highly collaborative environment, the portal allows you to easily create maps and perform analyzes. Your identity manages access and opens the door to ArcGIS.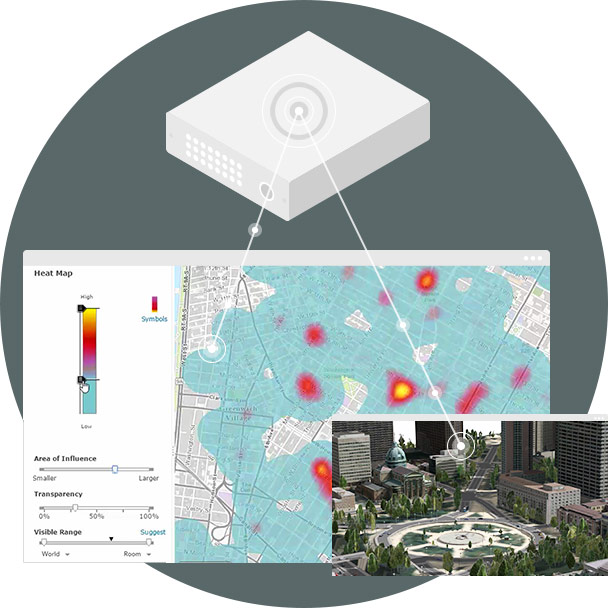 Ready-to-use cards
ArcGIS Enterprise includes access to the Living Atlas of the World, consisting of maps and authoritative data on thousands of topics.
Apps for everyone
ArcGIS applications make you more efficient. They are designed to guide you through specific tasks and do the job with the greatest ease and maximum benefit.
Spatial analysis
How do you have a sense of all this data? Spatial analysis allows you to identify and quantify the implications, consequences and impacts of your decisions.
A GIS server: the work center of your corporate site
A GIS server provides services for all your GIS work, including mapping, geocoding, geoprocessing, image analysis, 3D data, geographic features, network analysis and Open Geospatial Consortium (OGC). In addition, data access and mobile data extraction.
Dedicated GIS server
In the basic ArcGIS Enterprise deployment, a GIS server acts as a dedicated geospatial data engine that supports ArcGIS Enterprise.
Add more GIS servers
You can always add more GIS servers in your deployment to distribute and balance the workload and make your ArcGIS Enterprise GIS even more resilient.
A database for quick access to maps and data
ArcGIS Data Store allows you to easily configure data storage for hosting and the federated GIS server used with your portal. It provides you with a convenient setup experience that creates different types of data stores.
Relational database
Store hosted object layer data from your portal, including hosted feature layers that are created as output for the spatial analysis tools running in the portal.
Spatiotemporal Big Data Store
Archive massive amounts of data for fast access, including real-time observation data and results generated using ArcGIS GeoAnalytics server tools.
Add more features to the Enterprise GIS
Improve the power of mapping and analytics and take advantage of parallel processing infrastructures - onsite and in the cloud.
Improve your GIS server with extensions for specialized work
Provide maps, data, and analytics created with ArcGIS Pro extensions as web services.
Make way for everything. ArcGIS Enterprise includes ultimate geospatial data management, an ArcGIS Enterprise geodatabase. Access ArcGIS Pro, ArcGIS Enterprise, and ArcGIS.
Multiuser Editing
The geodatabase uses version, replication, and archiving to provide a full edition of multiple geospatial data users.
Define rules and data relationships
Maintain the integrity of your data and simplify data management. Use the geodatabase to define relationships, such as networks and topologies, between your datasets.
Manage metadata
Describe the content, quality, origin and other characteristics of your data. The geodatabase supports custom and standard metadata profiles, including FGDC, ISO, INSPIRE, and Dublin Core.